Outrank Competitor's Video's & Discover Lucrative Untapped Niches Using Superior Metrics
 A. No - The product is built for Microsoft Windows. You can run it on a Windows VPS. (We have a great Windows VPS Supplier we can put you on to should you need it)
 A. You can run it on a Windows VPS running Windows 7,10 or Windows Server.
 Q Is The Software Whitehat?
A. Yes, we use the YouTube Data api to get all the data back from YouTube. 
 Q Do I need anything else? 
 A. Yes,  A Free YouTube API Key + a Free (or paid) Moz API Key (optional)
 A. Yes, version updates are included
Start by using our powerful Keyword research tool to find the best traffic rich keywords to target 
Enter your keyword into video insights to expose the hidden ranking factors & competiton strength
Create your video with similar title, description, tags, thumbnail & video length with the knowledge of knowing what's working best 
Upload your video with finely tuned titles descriptions & tags found from our explorer tools & check your rank
You can rank with steps 1-4 - for an extra boost you may want to build some backlinks, views and user engagement.
 If you are in the YouTube world then this is just simply a game changer. I have the full suite. Every Tool you could possibly need in one place. Simple to use, great training, Exquisite piece of software and brilliant customer support.
Software Developer / SEO Expert
I Ranked My Video in Less Than 5 Minutes
I used Video Marketing Spy to find out what my competitors were up to.  I was surprised just how easy it was to rank once you can see exactly what titles, descriptions and tags were working for the videos that are ranking for the same keywords.  It's fast too, it only takes a few seconds to get the data
 Q Do I need to use Proxies? 
 A. No, we use the YouTube API so there is no reason to need to change your IP.
I have been using VMS for a few months now, i was very lucky to get on the beta testing team, it has some great features i've not seen in any other software (even if i helped suggest some haha) and it's  easy to use too, you will love it too i am sure.
My Video Marketing Go To Tool
Get The Critical Video Metrics At A Fraction Of The Cost
Here's What Our Clients Say
Video Marketing Spy uncovers ranking factors of the top videos based on keyword or key-phrase.  
Easily tap into hidden ranking factors to see how your competitors / others rank their videos. 
Problem #1 -  Critical Ranking Factors Missing
+ Without Using Multiple Tools With High Monthly Fees
There are 3 Huge Problems With Most Research Tools
Problem #2 -  Expensive Monthly Fees
Problem #3 -  Software Usage Restrictions
Video SEO in the early days used to be much simpler.
YouTube Ranking and algorithms are changing regularly, most of the video research tools on the market today are still relying outdated methods and metrics.
Important metrics such backlink info and keyword density are critical when it comes to ranking videos on YouTube and Google, if the keyword density is incorrect  then the chances of appearing on the 1st page are slim.
In many tools these important metrics and more are missing, which means that your research is flawed.
Many competitors video research tools not only have high monthly fee's they also have hidden running costs which can make some projects expensive and unfeasible.
As an example, we found another YouTube research software to cost $99 / month for limited keyword research, a backlink explorer for $90 / month and a rank checker for $40 / month
That's $229/month for only some of the tools, and that's without video / competitor insights research software. 
So you can end up paying high monthly prices for multiple tools just to be able to get the right data to get the job done. 
With some of the other tools you will find that they have crazy strict usage restriction which you end up having to pay extra for to unlock.
​
For example: We have found some competitors to do things such as limit the amount of keywords you can search for (to 100 in a month) and others to limit  the amount of results that you can get back.
​
Doing shady things like this only ends up hurting the end user by hiking up final costs so the fat cats can line their pockets.
Tool #1 - Video Insights - Provides 20 Data-Points
You Get 10 Powerhouse Tools
To Help You With Almost Any YouTube Research Task You Can Think Of
Tool #2 - Deep Competitor Insights
Tool #3 - Advanced Keyword Research
Tool #4 - Realtime Trend Analysis
Tool #5 - Easy To Use Rank Checker
Tool #10 - Video Workflow Tools
Check Out Our Past Results
With the advanced keywords research module you get 4 powerful keyword research tools instead of 1.
​
Comprehensive YouTube Research Tools
1) Provides the top 10 suggested / related keywords for the keyword you entered.
2) Our Deep Dive Keyword Module provides you with up to 100 unique highly related / suggested search terms from a keyword / key phrase of your choice.
3) The Bulk Keyword mode let's you enter a list of your keywords / keyphrases  and will get upto the top 10 most suggested / related keywords for each term you entered.
​
Comprehensive Google Research Tool
4) This tool is similar to the YouTube keyword research tool, not only does it bring back the top related / suggested keywords for your search term, it will also bring back the amount of monthly searches.
Uncover their exact hidden tags (keywords) they are using  to enable you to get a deeper look into their ranking strategy . Cherry pick the tags you want and use them in your own video.
Our In depth 'Competitor Insights' module gives you similar to 'Video Insights' deep analysis of your competitors YouTube video's.
Stay up to date with the latest trends.
We know how important it can be to know what the latest trending videos are, so we provided a way to access to the latest trending data from one of the largest data sources on the internet.
​
Get real-time trend information as it happens, enabling you to stay ahead of the game.

Find breakout keywords and trending topics.

Find Trending data by country + much more.
​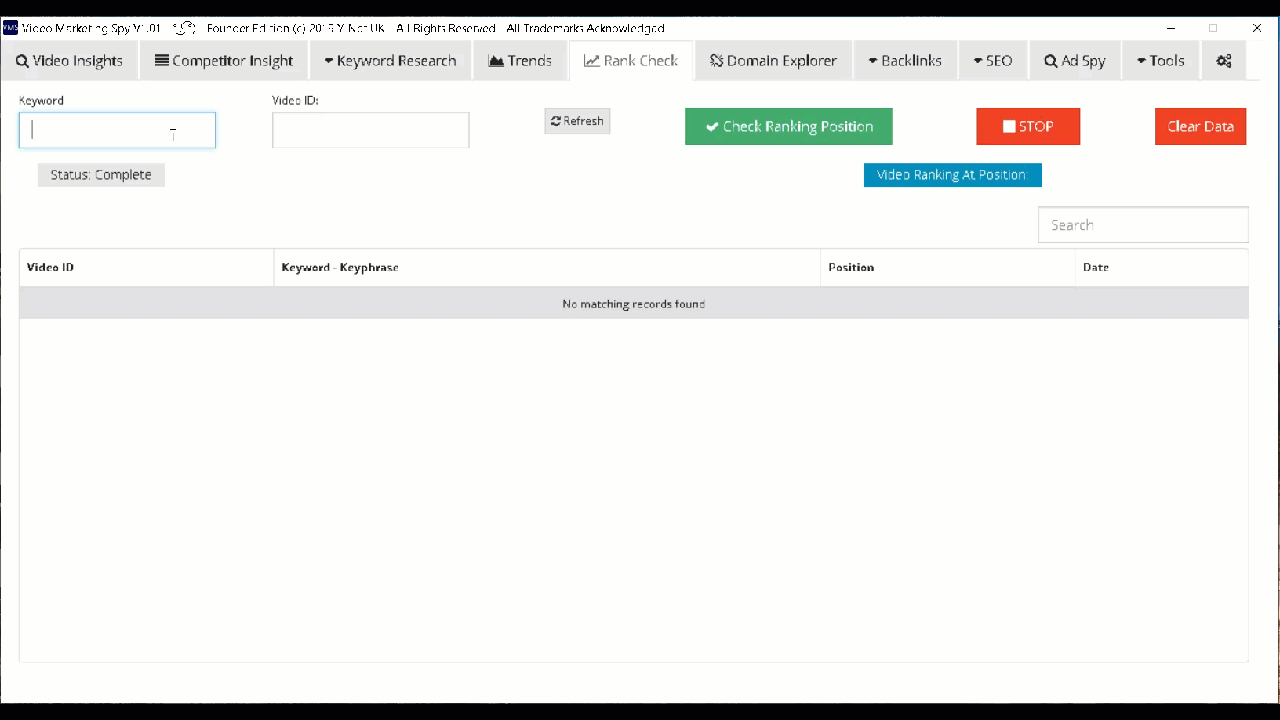 When you want to do YouTube video research the Video Insights module provides comprehensive analysis of YouTube videos by simply entering a keyword and pressing a button. 
Simply enter a keyword and press 'Get Video Insights' to research YouTube videos and uncover hidden ranking factors and powerful metrics from the top videos, enabling you to make smart data driven decisions instead of guessing and hoping.
That's Why We Created Video Marketing Suite
Ranking For Crappy Low Search Terms Is Easy..
But, For Views & Subscribers You Need REAL DATA
The built in video tools provides 2 useful tools.
​
1) You get a video res-izer, you can resize a .mp4 video either to a selection of presets or your own custom size.
​
2) A video download tool which allows you to download YouTube videos (that you have permission to download)
​
Problem #4 -  Using The Wrong Tools Cost Time
If you are using applications that don't give you the full picture then you are relying on data that is flawed or part complete.  The trouble with this is you could spend so much time making critical business decisions on the wrong data.
​
Ranking videos on YouTube and Google is about making data driven decisions, if you don't have the correct data then you are not making good decisions.
​
It's all well and good owning the latest shiny ranking tool and ranking at the top of Google and YouTube for keywords that will never get searched for and looking for traffic that does not appear.
Save time and effort by easily seeing how popular a video is, by checking on things like, views, comments, duration of video, the engagement rate, the number of backlinks pointing to the video and lots more. 
Google Page 1 Position 2 out of 97 Million (video panel)
Google Page 1 Position 4 out of 14 Million
YouTube Page 1 Position 2
Google Page 1 Position 10 out of 7.5 Million
Bing.com Page 1 Position 1 out of 20 Million
YouTube Page 1 Position 4
How To Rank Video's In 5 Simple Steps...
How We Compare Against Others
It's important that you know if a video is ranking.
Otherwise how would you know if your video marketing efforts were paying off?
How would you know what to do next?
​
This is the reason we included the rank checker.
The rank checker enables you to easily check if videos are in the top 50 search results of YouTube.
Get 12 Comprehensive Tools In 2 PC Apps In 1 Suite
By purchasing this product you agree to receiving marketing emails from Jane Williams or our companies Y-Net UK. Your data will not be shared with any third parties & you may opt-out at any time in accordance to GDPR (Europe 2018) & CAN SPAM acts - the law also states that you must unssubscribe & not complain as this can damage our business.
| 1 PC License | 3 PC License |
| --- | --- |
| 25 Video Searches Per Day | Unlimited Video Research* |
| 25 Keyword Searches | Unlimited Keyword Research* |
| Instant Download | Instant Download |
| Updates Included | Updates Included |
| - | Includes Live Event Spy |
| - | Unlimited Live Streaming* |
| - | Access To Private Facebook Group |
| - | Backlink Explorer - Find Upto 1000 Backlinks Per Url |
| - | Domain Explorer - Find Expired Domains |
| - | Domain Explorer - Uncloak Redirected Links |
| - | Video Ads Spy |
| - | Rank Checker |
| - | Competitor Insights |
| - | Video Insights |
| - | Google & YouTube Keyword Research |
| - | Google Releated Search Volume |
| - | Video Booster |
| - | Video Toolbox |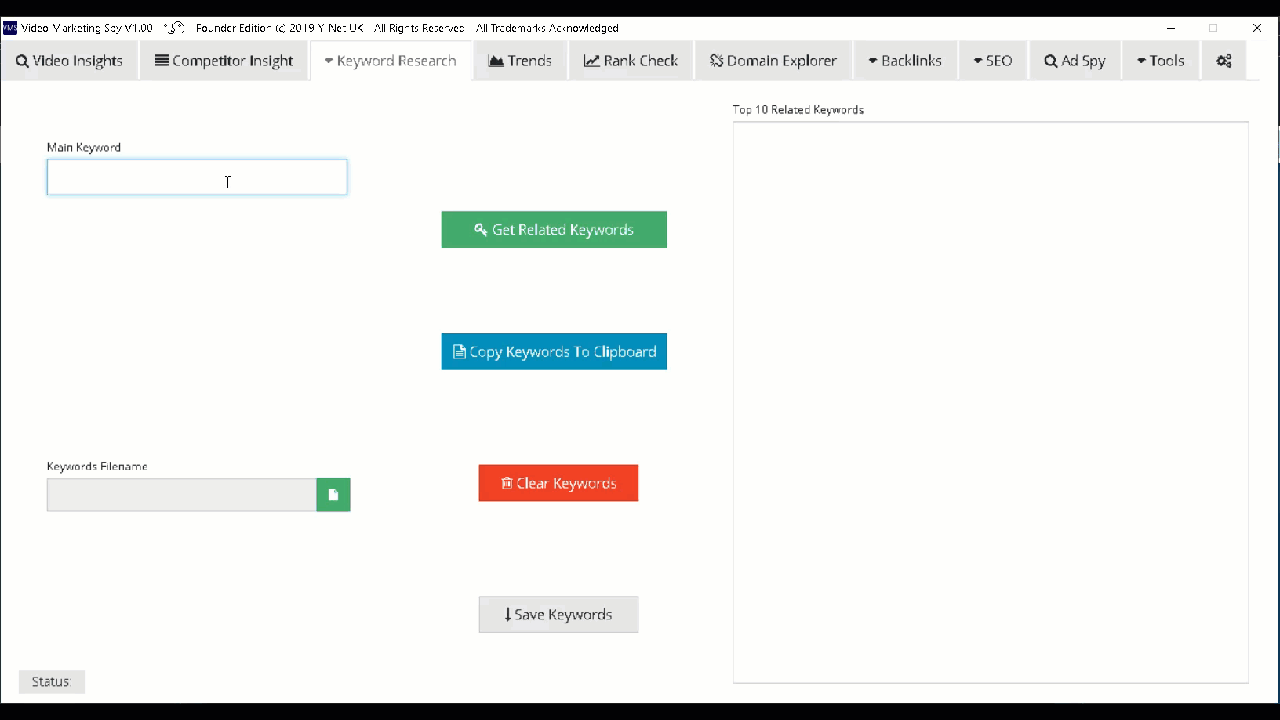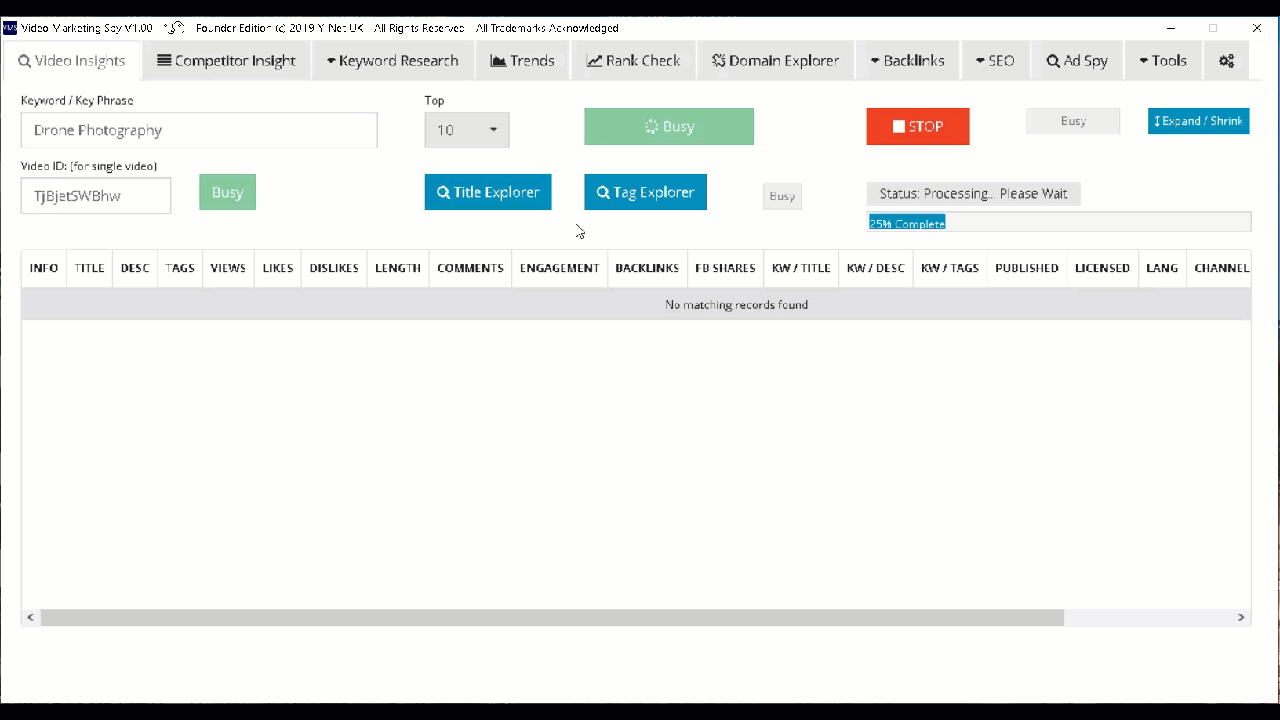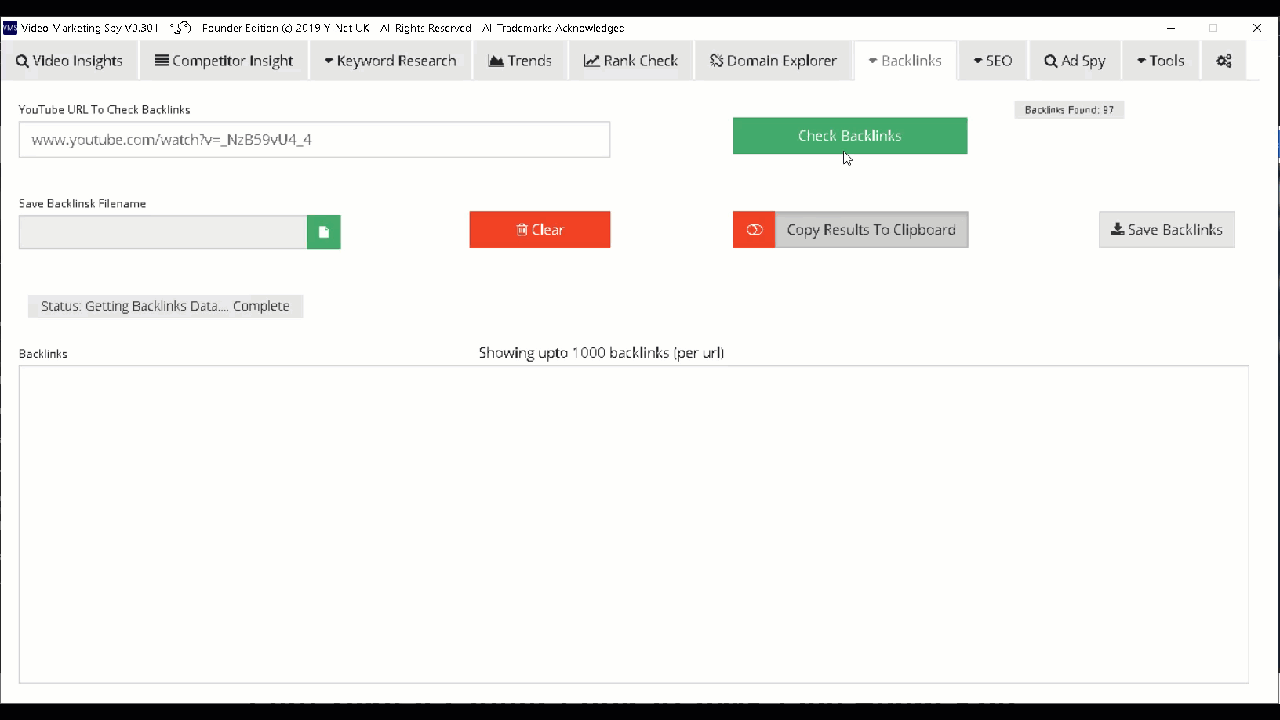 Due to Video Marketing Suite software being a monthly subscription we do not offer refunds on monthly packages under any circumstances, all sales are final.  
However you can cancel your monthly subscription at any time by submitting a ticket in our client-area, once your subscription has been cancelled we will not send you ant more invoices and we will cancel your license (we do not offer a refund on any unused days you have left).
Please make sure you read everything on this page and watch the videos to see the software being demonstrated to make sure this software is what you are looking for.
Should you find any technical issues with the software please create an account at our client-area and submit a ticket in our client-area including a description of the problem and a video of the problem and you reproducing it fully. You can use Jing or something similar to provide us the video URL only (do not attach the video to the support ticket, only the jing link or dropbox or google drive / one drive url). We will then get our technicians  to look into the problem and fix it as long as we are able to reproduce the problem.
API Key issues are beyond the scope of support, if you have an issue with YouTube API keys then you will have to contact them direct as this is out of our control.
Tool #7 - Backlink Explorer
Tool #6 - Domain Explorer
See The EXACT Strategy Your Competitors Use
As Domain Explorer Auto Uncloaks Every Link
Here is an Example of an expired domain we found during our video research
People Monetize Expired Domains With :-
We wanted to help you maximize your return, so we included and invaluable tool called 'Domain Explorer'.
'Domains Explorer' has three powerful functions (one of which we have never been seen before in video research or any other software).
1) Uncloak every link in the description to see where they are redirecting to. 
2) Scan every link in each video description to see if any of the domains have expired.
3) Find out how many clicks certain links in the description are getting (this works for some popular domains, we will add more in the future)
Uncover What's Working By Getting The EXACT Number Of Clicks For Some Popular Links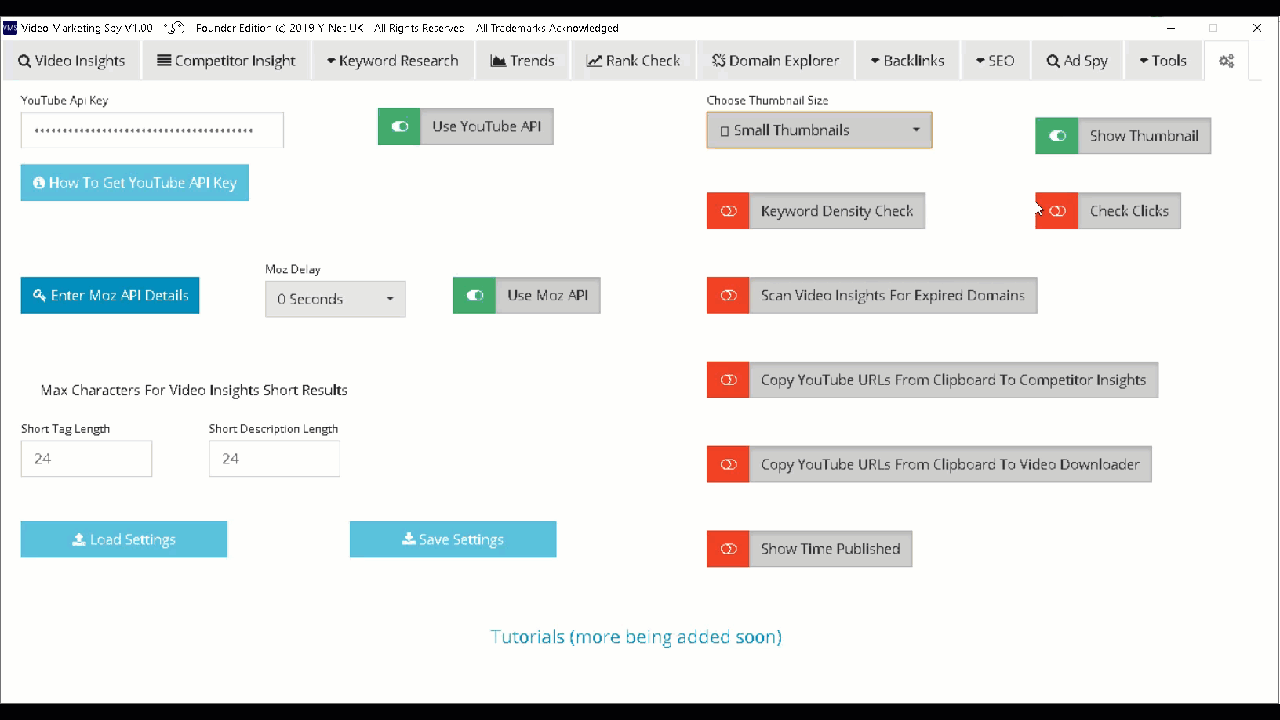 Backlink Explorer - Make Your Competitors Cry! 
Now we are getting down to the secret sauce.
It's ALL about links.  
It's no secret that you can rank videos without backlinks, but when you get higher competition search terms you want to rank for then you will probably need backlinks.
BUT not all backlinks will help with ranking your YouTube videos, so with that in mind we created 'Backlink Explorer'
Simply enter ANY YouTube url and within seconds you can see links (up to 1000) that are linking back to the YouTube video., then you can cherry pick the best and build links from the same places to your videos.
Mimicking Video SEO ranking strategies then becomes a whole lot easier.
TIP: Expired Domains Get Snapped Up Fast - So When You Find Them, If They Fit Your Purpose  Then Grab Them Quick
The SEO module brings you our video booster option. 
This will take your YouTube videos and it put them on Video Authority sites.
The reason we do this is so you get slow dripped organic backlinks from them sites when they get crawled by the search engines.
​
We have 2 options in the SEO module
​
1) Video Booster
2) Mass Video Booster
​
Mass Video booster allows you to submit multiple videos to these sites. 
YouTube gives us the opportunity to put our ads in front of the perfect target laser-targeted audience. People usually bid on keywords when it comes to YouTube ads.
Using Video Ad Spy you can find videos that you are able to run ads on based on a keyword, search term or a bunch or url's you paste in the software.
Video Ad Spy will check the videos to  see if they have ads on and list the ones that do, so you can then place the URLs into your placement target group on the Google Ads campaign (don't worry this is really not that as scary as it sounds).
In an article by Moz.com, who are one of the leading authorities when it comes to SEO and SEO metrics they said "Use fine grained metrics.  Where appropriate, metrics like mozRank and Domain mozRank along with some comparisons to the competition can give an audit and some powerful, targeted conclusions about strengths and about what is missing.  We're certainly doing a lot of this in our own consulting."  
You will be glad to know we have included mozRank and Page Authority Metrics to enable you to make real data based decisions.
Domain mozRank is not an important factor when it comes to YouTube video SEO because when you think about it, all the videos will be the same score.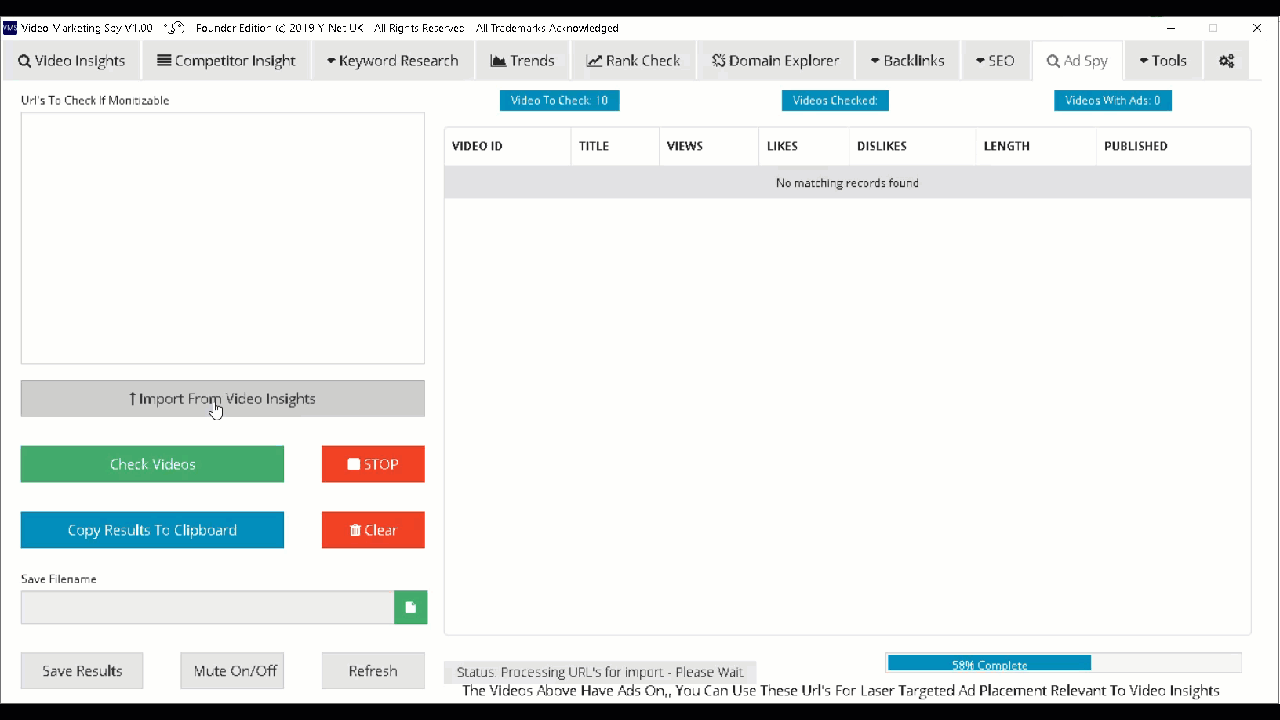 So Let's re-cap.  Now you know :-  The Thumbnail, title and description they used. 
You know the url / link that they are redirecting too and you know the number of clicks the link got.
Now ask yourself, can you mimic this and add your own twist? 
Are you having a light bulb moment? 
In my opinion that's a winning combo to get you on the right track to find great campaigns.
Some of the above animations above have been shortened for demo purposes
That's $229/month For 3 Tools Similar To Our Keyword Tools, Rank Tracker & Backlink Explorer (You Get 10 Tools In Video Marketing Spy)
​
​
Imagine How Much The Rest Would Cost
(PC Software)  - Got A Mac? Get A Suitable Windows VPS Only $10 USD / Month (Submit ticket for more info)
That's NOT All...You Also Get VMS Live Event Spy
Harness The Power Of Live Events Using Pre-Recorded Videos
How Do Live Events Differ From Normal Video?
Live Events was introduced in 2016 by YouTube.
They get indexed virtually instantly usually and tend to rank higher and quicker once you have your title, description and tags correct (your video seo).
That's because Live Events are considered a kind of priority (as the event it's happening now as such live).
The beauty of VMS Live Event Spy is you can create a live event and schedule your prerecorded videos to stream as if they were a live event. 
One of the other advantages of being able to create live events is you do not have to stream a video to it right away, you can schedule a time and date for the video to stream (and even if you never stream a video to it the live event will still show on YouTube as a placeholder (your thumbnail) with the title, description and tags.  
There are many things this could be good for, rank and rent for example, local seo, testing niches or thumbnails, and much more. (make sure you check YouTube's terms and conditions to see what you can and can't stream etc).
One of the other advantages is how easy and fast it is to save your campaign, publish it, see if you like the results and if not then delete it, change it up and put a new one up.
One thing to note is to use Live Events you need to enable it in your YouTube account, it usually takes 24 hours from you enabling Live streaming to being able to actually create live events / stream to a live event. (Check YouTube's latest info when you enable it to be sure.)
Note: The Live Events in the above video were created using a test account / for demonstration purposes.
(1 PC License discontinued)